«Ameria Russ» company was founded in 1993 as importer of the European food products. Over the past 28 years the Company has continuously focused on developing and expanding its operations, tough it out the crises of 1998, 2008 and 2014, and became one of the biggest and well-known distributor of high-quality and organic food products of more than 20 famous European brands as Maestro de Oliva, Iberica, Monini, Kuhne, La Molisana, Reber, Mirabell, Riso Scotti, Bioitalia, Crich, Campbells. Mutually beneficial and fruitful cooperation with many brands is 15 – 21 years.
Achievements of previous years and established long-term, good, mutually beneficial and fruitful business relations with major foreign and domestic business partners are our legitimate pride. They inspire and focus us to use our knowledge, experience and opportunities more aggressively, in the further development and expansion of import and production of high-quality food products for consumers in Russia.
Throughout its activities, «Ameria Russ» regularly participates in prestigious and significant contests and exhibitions. Our products have repeatedly received prizes and awards, which speaks of the high quality of the supplied and manufactured products, and most importantly of the love and recognition as one of the best!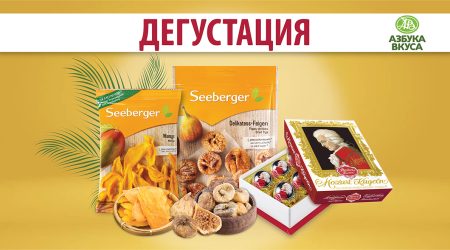 Dear friends! We are glad to invite you to visit the upcoming tastings of Seeberger premium dried fruits and the famous Byajhvfwbz Mozart Reber sweets from Germany. The tastings will ...
more
More